Exploring Lisbon in the Iconic Tram 28: Complete Route, Schedule, Price, and Local Tips
When you're exploring the charming capital of Portugal, there's an experience you don't want to miss – a ride on the famous Lisbon Tram 28.
This iconic tram, also known as the "Eléctrico 28," is much more than a way of transportation; it's a true window to the past, taking you through Lisbon's narrow streets, unveiling the city's history and beauty.
In this post, we'll guide you through the Tram 28 route in Lisbon and give local tips for the best experience.
Scenic Route of Lisbon's Tram 28
Tram 28 offers a timeless journey through Lisbon, beginning at Martim Moniz Square and ending at Campo Ourique, with a duration of approximately 40 minutes.
During this route, the tram winds its way through Lisbon's steep hills, offering breathtaking views of historic monuments, cobblestone streets, and picturesque buildings that characterize the city.
Complete Tram 28 Lisbon Route:
Martim Moniz
R. Palma
Igreja Anjos
R. Maria Andrade
R. Maria Fonte
R. Angelina Vidal
Sapadores
R. Graça
Graça
Voz Operário
Cç. S. Vicente
R. Escolas Gerais
Lg. Portas Sol
Miradouro Sta. Luzia
Limoeiro
Sé
R. Conceição
Lg. Academia Nacional Belas Artes
R. Vitor Cordon / R. Serpa Pinto
Chiado
Pç. Luis Camões (B. Alto)
Calhariz (Bica)
Sta. Catarina
Cç. Combro
R. Poiais S. Bento
R. S. Bento / Cç. Estrela
Cç. Estrela / R. Borges Carneiro
Cç. Estrela / R. Dr. Teófilo Braga
Estrela (Basílica)
Estrela – R. Domingos Sequeira
R. Domingos Sequeira
R. Saraiva Carvalho
Igreja Sto. Condestável (C. Ourique)
Campo Ourique (Prazeres)
Lisbon Tram 28 Schedule
Please note that the following schedules are updated for the year 2023:
| Day | Start Time | End Time |
| --- | --- | --- |
| Weekdays | 5:40 a.m. | 11:30 p.m. |
| Saturdays | 5:45 a.m. | 10:30 p.m. |
| Sundays | 6:45 a.m. | 10:30 p.m. |
If you want to enjoy a ride with fewer people, we recommend considering using the tram during the early or late hours of the day.
Tram 28 Route Attractions
This route will take you through iconic neighborhoods such as Graça, Alfama, Chiado, and Estrela, passing by some of the major attractions, including Castelo de São Jorge , Praça Do Comercio, Rua Augusta, and Lisbon Cathedral.
Moreover, Tram 28 conveniently connects you to incredible viewpoints like Miradouro da Graça and Miradouro de Santa Luzia, where you can enjoy panoramic views of Lisbon and avoid all the trouble to walk uphill.
The Tram 28 route includes the following attractions:
Castelo de São Jorge
Praça do Comércio
Lisbon Cathedral
Rua Augusta
Praça Luís Camoes
Miradouro Santa Luzia
Panteão Nacional
Miradouro da Graça
Palacio de São Bento y Assembleia da República
Basílica and Jardim Da Estrela
Tips for Enjoying Tram 28 Journey
Since Tram 28 has become an extremely popular tourist attraction, there may be long lines to board and the waiting time can take up to an hour. So, to avoid crowds, consider taking the tram at Martim Moniz or Campo Ourique, where you are more likely to find available seats.
However, keep in mind that the Martim Moniz area can be a bit unsafe, so always keep an eye on your belongings. Since, the tram 28 is consistently crowded with tourists makes it an ideal target for pickpockets.
BTW: Tram 28 is also a daily transportation for local residents. Therefore, it's important to be respectful and considerate to those who use it as their means of getting around the city.
History of Lisbon's Tram 28
Tram 28 has its roots in the early 20th century when Lisbon decided to expand its electric tram network. Although it has undergone some modifications and improvements over the years, much of its charm lies in the fact that it still uses restored historic trams, some of which date back to the 1930s.
This tram has become an icon of Lisbon and has witnessed the city's evolution over decades. It's not just an efficient way of transportation; it's a nostalgic journey that has earned a special place in the hearts of both Lisbon locals and visitors.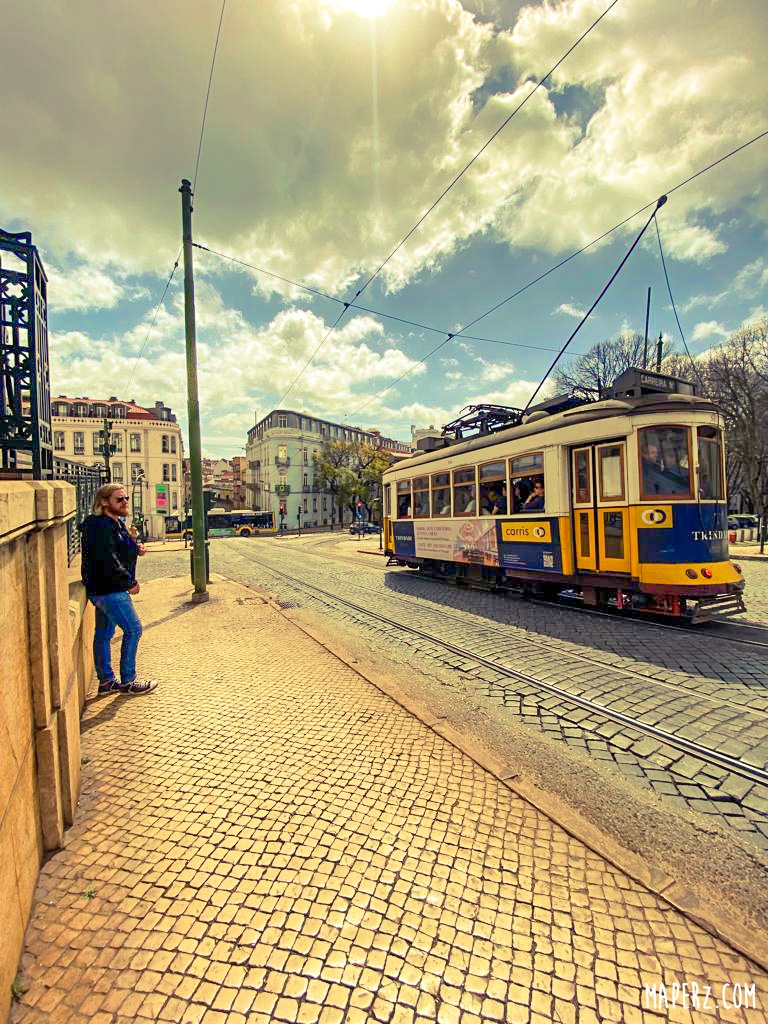 Where to Buy Tram 28 Tickets: Prices and Options
To board Tram 28, you have a few options to get your ticket. If you buy it directly on board, a one-way fare will cost 3.80 euros.
However, there are two better options to enjoy unlimited travel on public transportation and have free access to Lisbon's museums and attractions.
The first option is to get the Lisboa Card here, available in 24, 48, or 72-hour options, which allows unlimited travel on Lisbon's public transportation. Additionally, it provides free access to around 35 museums and attractions in the city, as well as discounts at shops and restaurants.
The second option is to buy a 24-hour ticket for unlimited public transportation access, and costs only 6.60 euros. It also includes free admission to the Elevador de Santa Justa and Elevador da Gloria. You can purchase this ticket at the Metro's ticket machines.
Free Guided Tours
If you want to immerse yourself in history and explore every corner of Lisbon with a local guide, we recommend this free tour around the historic center which is highly recommended.
Beyond Tram 28: Other Options to Explore Lisbon
If you enjoy exploring beyond conventional tourist tracks like us, Lisbon offers other alternatives through the tram network.
Tram 15: Cais do Sodré to Algés:
This route follows the Tagus riverside, starting from the bustling Cais do Sodré area and taking you to the iconic Belém district. You'll explore one of Lisbon's most charming neighborhoods and have the opportunity to taste one of Portugal's famous delicacies: Pastéis de Belém.
Tram 12: Martim Moniz to Baixa and Alfama:
If you're looking for a shorter but equally charming experience as Tram 28, Tram 12 is an excellent choice. It starts at Martim Moniz and takes you through the historic districts of Baixa and Alfama. This is the shortest route in Lisbon's tram network, with a journey that lasts just 20 minutes. Perfect if you want to enjoy the experience without investing too much time.
Red Tramcar
Another great option to discover historic Lisbon is through the red Tramcar, which includes, unlimited travels in 24 hrs, audioguide and tickets to Santa Justa Lift. Get your ticket here.