¡Hello World!

We are Karina and JP, a couple from Chile and together since 2005. After many ups and downs and various existential dilemmas, we decided to take action in our lives and do everything possible to fulfill our dream: to travel the world.
The routine, work schedules, limited hours to do what we truly enjoyed and share, made us pause and think if that's really what we wanted for our future. Starting to "live" and travel only after the age of 60 (if your pension allows it or if you have the physical ability to do so) wasn't a very encouraging life plan, to say the least.
Tired of it all, in 2014 we set ourselves a goal: To create a business that would allow us to be independent, earn enough $$$, and be able to develop it while we traveled.
We started studying after work, and after trying out many options, we developed an online business that involves web design, content creation, and website management. A job we can do from anywhere at any time, we just need two fundamental tools available all over the world (or almost everywhere): a Computer and the Internet.
Preparing for the Journey
In 2015, with steady income, we made the decision to take the plunge.
Our first step was to rid ourselves of all material possessions and comforts. We sold all our furniture, most of our clothes, our car and motorcycle. We also moved to a smaller apartment in downtown Santiago while we prepared everything to leave.
Letting go of material possessions was a true learning experience. We realized we're immersed in a very materialistic society and that it's truly liberating to let go of all that.
We exchanged all the material stuff for life experiences that make you mature, gain perspective, make sacrifices for greater benefits, and most importantly, teach us to appreciate what truly matters. The time we have on this Earth is limited, and cherishing it while you can is priceless.
The First Approach
In mid-2015, after applying for the Australia Working Holiday Visa, we went to Vancouver, Canada, and Seattle, USA for a month. Besides visiting family and a friend, we wanted to see if we could function remotely.
Everything went successfully, and we realized our plan could work. Upon returning to Chile, we already had the visa to go to Australia, which we did in October 2015.
Our Aussie Life
We spent a year and a half in Australia, living in Melbourne, Harcourt, and Perth.
Summing Up Australia: We covered over 15,000 km in our 1998 Ford Falcon, another 5,000 km in a van. We lived and worked on an Australian family's farm (with pigs, cows, ducks, sheep, and kangaroos), lived with another Australian family in Perth, taking care of their horse. JP worked as a house painter, Karina ran a food truck, we saw hundreds of kangaroos at sunset from our cabin window, saw whales with their calves, swam in paradise-like beaches, and thus, we experienced thousands of new things, learned a lot, and made many new friends.
Most importantly: We stepped out of our comfort zone, out of the bubble, and embarked on incredible adventures.
Digital Nomads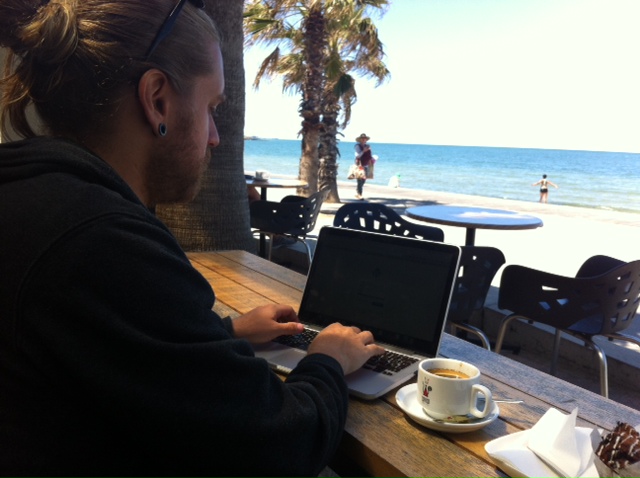 In 2015, we left Chile with a one-way flight only, and all our lives now fit into a 50-liter backpack each.
It's been 8 years since we achieved location independence, and thanks to this, we've had the chance to generate a steady income. We've been able to travel without worrying about money, and only do occasional jobs along the way, mostly to exchange culture, live new experiences, and embrace challenges.
The truth is, we don't know when we'll be back or how many countries we'll visit. The best part is that one week our office can be a beach on some island in Thailand, and the next week, a rural village in Myanmar.
Without intending to, we've become what they now call "Digital Nomads," a term we only came across recently and it resonated with us.
Returning to Chile
Fast forward to 2018, we decided it was time to return to our roots in Chile after our incredible adventures in various corners of the globe. After landing back in Chile, we rolled up our sleeves and delved into work, balancing our professional pursuits with our insatiable wanderlust. Our passports quickly amassed new stamps as we embarked on journeys to the United States, Uruguay, and Peru. Each destination brought with it its own unique flavors, cultures, and memories.
But then, as fate would have it, the world took an unexpected turn. The arrival of the COVID-19 pandemic brought about a seismic shift in our plans. Travel was suddenly put on hold, and like so many others, we found ourselves confined to our homes, yearning for the days of exploration and discovery.
Relocating to Portugal
Amidst the uncertainty and lockdowns, we turned our attention inward. We began to contemplate our next move, to envision our next chapter once the world would reopen its doors. And that's when we stumbled upon a game-changing revelation: the D7 visa in Portugal. This golden ticket offered us a new opportunity, a chance to set up our base in Europe and continue our journey of discovery.
With newfound determination, we navigated the application process, and to our delight, our efforts were rewarded with the granting of the D7 visa. As the year 2022 came to a close, we bid farewell to Chile once more, this time with Portugal as our destination. A new chapter awaited us, and Europe's enchanting landscapes, rich history, and diverse cultures beckoned us forward.
Our adventure in Portugal had begun, and our aspirations to explore the rest of Europe were reignited. The yearning to tread new paths, meet new faces, and savor new experiences surged within us. We are poised to embrace every moment and create a mosaic of memories across the continent.
So, as we embark on this fresh journey, we invite you to join us once again. Follow along as we traverse Europe, sharing our encounters, insights, and perhaps a hint of mischief. Life is a grand tapestry of moments woven together, and we're excited to add vibrant threads to ours as we explore the wonders of this remarkable continent.
Stay tuned for more tales of adventure, laughter, and the pursuit of a life well-traveled.
Cheers to new horizons and unforgettable experiences!
Thanks for stopping by!
Cheers 🙂 !!
JP y Karina.