Best Time to Visit Portugal: A comprehensive Guide
Portugal, with its enchanting landscapes, rich history, and vibrant culture, has become a trendy destination for travelers from around the globe. From the mesmerizing beaches of the Algarve to the historic charm of Lisbon and Porto, Portugal offers a diverse range of experiences for every type of traveler. One crucial aspect to consider when planning your trip to Portugal is the timing of your visit. In this guide, we'll explore the best time to visit Portugal, taking into account the weather, budget, festivals and local events that can greatly enhance your travel experience.
How is the weather in Portugal?: Understanding Portugal's Climate
Portugal's climate is greatly influenced by its location along the Atlantic Ocean. As a result, the country generally experiences mild winters and warm summers, making it a favorable destination year-round. However, the weather can vary significantly from region to region due to the diverse landscape.
Portugal's weather varies from north to south due to factors like geography and proximity to the Atlantic Ocean. While the north tends to be cooler and more rainy, the south enjoys warmer and drier conditions.
Let's explore how the weather varies from north to south in Portugal:
North Portugal: In the northern regions of Portugal, including cities like Porto and Braga, the climate is considered temperate maritime. Winters are relatively cooler, with temperatures averaging around 10°C (50°F), and occasional rainfall. On the other hand, summers are pleasantly warm, with average temperatures of about 20-25°C (68-77°F). The northern areas receive more rain compared to the south, especially during the winter months.

Central Portugal: Cities like Coimbra and Aveiro fall in the central part of the country. The climate here is also temperate maritime, but with slightly milder temperatures due to the influence of the Atlantic Ocean. Winters remain relatively mild, with average temperatures around 12°C (54°F), and summers are warm and inviting, ranging from 22-28°C (72-82°F).

Lisbon and Surroundings: Moving south to the Lisbon region, the climate becomes Mediterranean, characterized by mild, rainy winters and hot, dry summers. Winters are comfortable, averaging around 15°C (59°F), while summers can get quite hot, with temperatures reaching 30°C (86°F) or higher. The region enjoys a lot of sunshine, making it a popular destination year-round.

Alentejo and Algarve: In the Alentejo region and further south to the Algarve, you'll experience a Mediterranean climate at its fullest. Winters are mild, with temperatures around 12-15°C (54-59°F), while summers are hot and dry, often exceeding 30°C (86°F). The Algarve boasts some of the sunniest and warmest weather in all of Europe, making it a favorite destination for beach lovers.

Azores and Madeira Islands: The Azores, a group of islands in the Atlantic, have a subtropical climate with mild temperatures year-round. Summers range from 20-25°C (68-77°F), while winters stay around 14-17°C (57-63°F). Madeira, another Portuguese archipelago, enjoys a similar subtropical climate with even milder variations in temperature.
When is the best time to visit to Portugal?
Figuring out the best time to visit Portugal isn't quite that simple. Portugal is a year-round destination, and each season has its own benefits that will definitely depend on your preferences, age, whether you're traveling with kids, going solo, or in a romantic adventure. Therefore, we will break it down, without being overwhelming, to help you make the best choice on when is the best time to visit Portugal.
Portugal Seasons: When and what to visit every month
Springtime Awakening: March to May
Spring is a magical time to visit Portugal. The temperatures begin to rise, and the countryside comes alive with colorful blossoms. March marks the start of the tourist season, offering pleasant weather without the summer crowds. This is an ideal time for outdoor activities, exploring historic sites, and enjoying the picturesque landscapes.
If you want to avoid crowds and budget is your prime concern, then this is the perfect time to visit Portugal. The weather is getting warmer and you will definitely pay 1/3 of the price comparing to high season.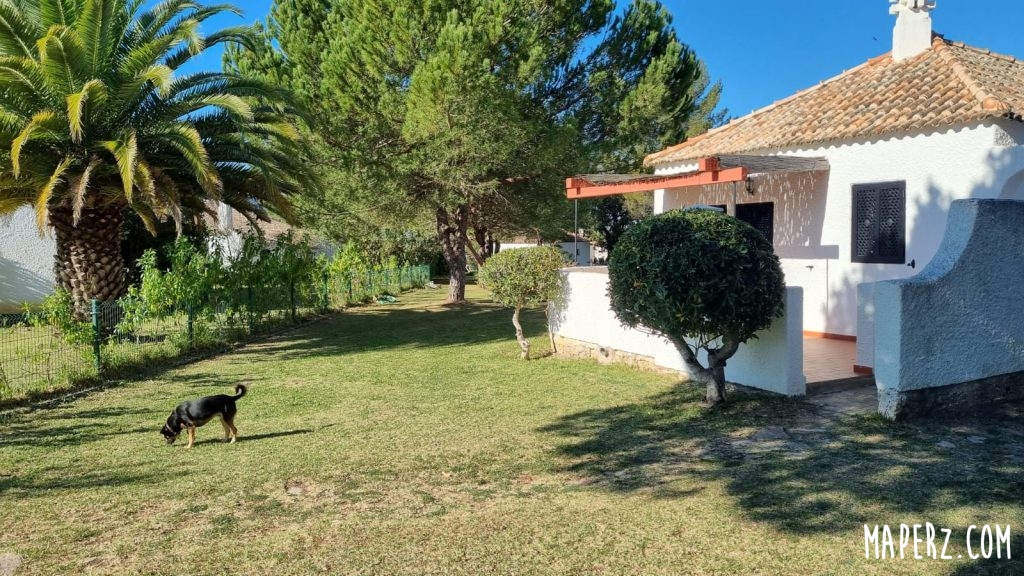 Festivals and Local Events
March:
Festival of São José: Celebrated in Lisbon with parades and street fairs.
Fado Festival: A month-long celebration of Portugal's traditional music in various cities.
April:
Holy Week (Semana Santa): Religious processions and events leading up to Easter Sunday.
May:
Fátima Pilgrimage: Thousands of pilgrims visit the Shrine of Our Lady of Fátima.
Discover Ivens Hotel a hidden gem nestled in the charming neighborhood of Chiado in Lisbon. This exquisite boutique hotel, seamlessly combines modern luxury with timeless elegance. Not only that, The Ivens Hotel, is home to one of the most trendy restaurants in the city. Rocco in Lisbon is renowned not only for its exceptional fine dining, but also for being one of the most beautiful and glamorous eateries, mirroring the sophistication found throughout the hotel. A must-visit during your time in Lisbon.
Summer Delights: June to August
Summer is the peak tourist season in Portugal, and for good reason. The sun-drenched beaches are perfect for sunbathing and water sports. Cities like Lisbon and Porto buzz with energy, and the streets come alive with festivals and events. It's important to note that this is also the hottest and driest time of the year, so staying hydrated and protecting yourself from the sun is crucial.
June would be the perfect time to explore Portugal if you want to enjoy the traditional "Santos Populares" and be part of a local holiday. In the main cities of Lisbon and Porto, the street are filled with music, beer, wine, dances and the smell of grilled sardines in every corner.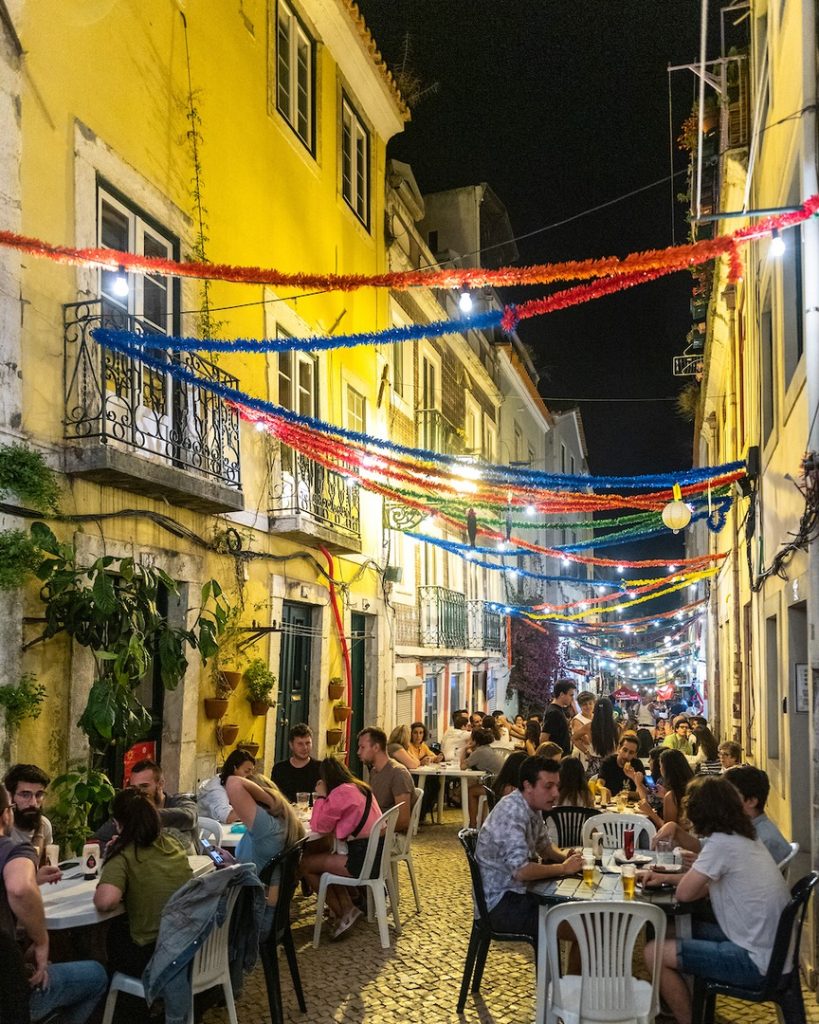 Festivals and local events
June
"Santos" de Lisboa: Month-long celebrations in Lisbon with concerts, street performances, and traditional events.
São João Festival: Celebrated in Porto with street parties, music, and the tradition of hitting each other with plastic hammers.
Check out the best hotel deals in Porto to experience the city like a local during the São João Festival, an event you can't miss. Our favorite Pick is Belamonte Guest House, which is actually a Hotel Boutique, cozy and affordable just a few meters away from the riverfront.
July:
Fado in Chiado: A series of Fado concerts held in Lisbon.
Festa do Colete Encarnado: Traditional bullfighting festival in Vila Franca de Xira.
Medieval Festival and Fair: Transport to the middle ages in Óbidos picturesque and charming village.
August:
Festival do Marisco: Seafood festival held in Olhão, Algarve.
Festa da Ria: Traditional festival in Aveiro celebrating the local culture and canals.
A Tapestry of Colors: Autumn in Portugal
As the summer heat gradually subsides, autumn ushers in a different kind of beauty. The vineyards and forests transform into a breathtaking tapestry of reds, oranges, and yellows. September to November is an excellent time for wine enthusiasts to explore the Douro Valley and participate in grape harvesting activities.
Festivals and local events
September:
Douro Valley Wine Harvest: Grape harvest festivals and events in the famous wine region.
Fado Festival: Another round of Fado celebrations across Portugal.
October:
São Martinho: Celebrated with roasted chestnuts and new wine tasting.
November:
All Saints' Day (Dia de Todos os Santos): A religious holiday marked by visiting cemeteries and honoring deceased loved ones.
Lisbon & Sintra Film Festival: Showcasing independent and international films.
Embracing Winter: December to February
Winter in Portugal is relatively mild compared to other European destinations. While the northern regions experience cooler temperatures and occasional rainfall, the southern Algarve region remains relatively temperate. This is a quieter time to explore the cities and historical sites without the hustle and bustle of peak tourism.
If you are on a budget in Europe, then this the cheapest time to visit Portugal (January to February), however is right in the dead of the winter season and most days can be rainy.
On the other hand, If you're an experienced surfer seeking the adrenaline of big waves, the winter months in the north and central regions are your prime time.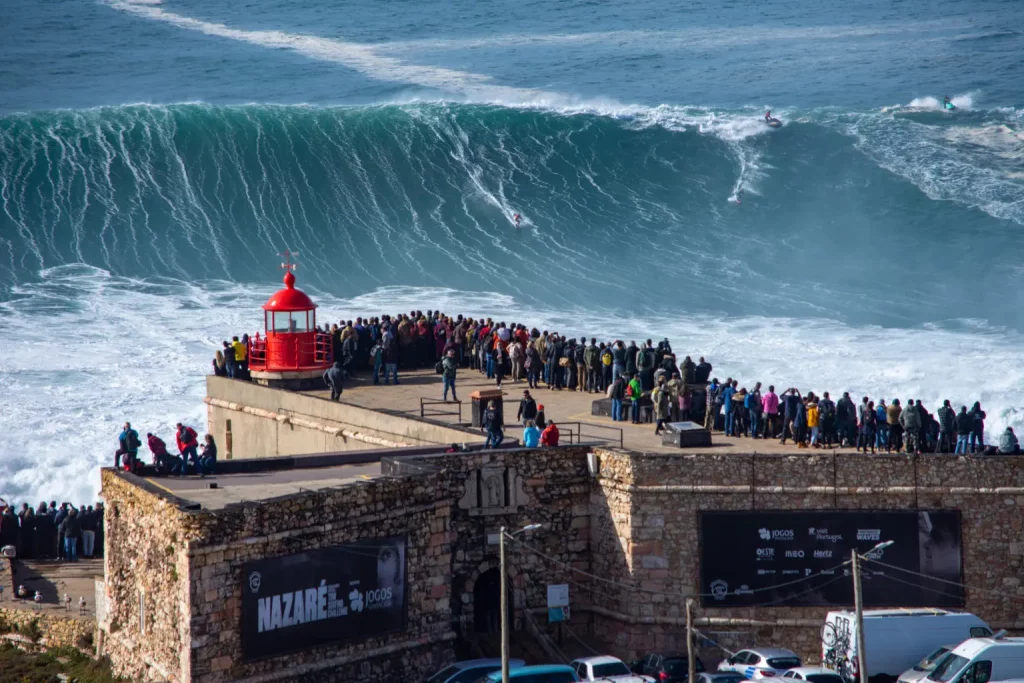 Festivals and local events
December:
Christmas (Natal): Festive decorations, markets, and celebrations across the country.
New Year's Eve (Passagem de Ano): Countdown parties and fireworks to welcome the new year.
January:
New Year's Day (Ano Novo): Nationwide celebrations with fireworks, parties, and festive meals.
February:
Carnival (Carnaval): Colorful parades, costumes, and street parties take over cities like Lisbon and Loulé.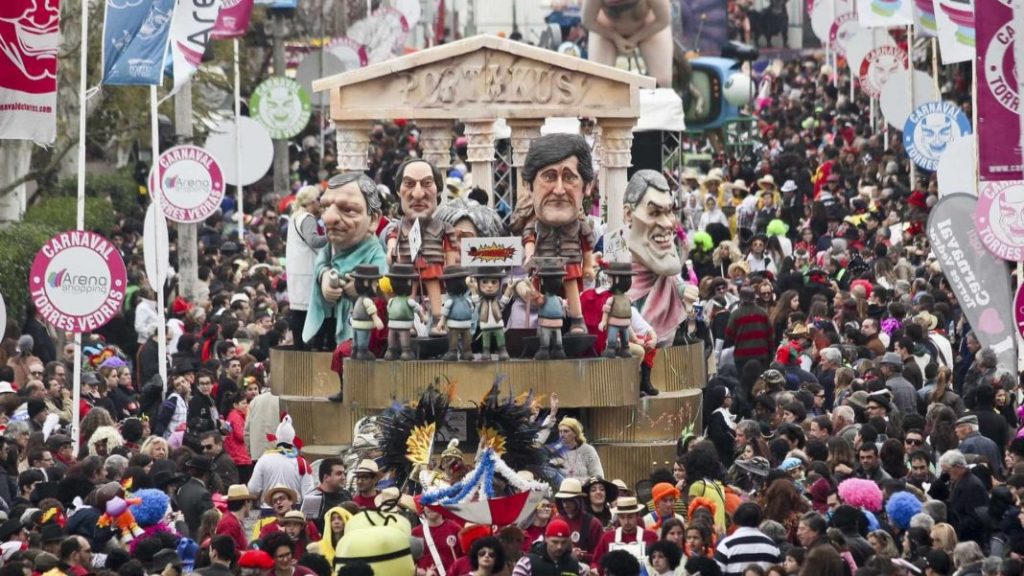 What are the Must Visit Destinations in Portugal?
Lisbon: A city of contrasts, where historic architecture meets contemporary vibes.
Porto : Known for its port wine and stunning riverside landscapes and architecture with traditional portuguese tiles.
Aveiro: Known as the Portuguese venice, with its captivating canals and moliceiro boats.
Algarve: Famous for its stunning beaches, cliffs, caves and vibrant nightlife.
Sintra: A fairytale town with enchanting palaces and lush gardens.
Nazaré: Where Giant Waves and Coastal Beauty Converge.
Azores: Known as Hawaii from Europe, captivate with their stunning landscapes, a harmonious blend of lush greenery, volcanic formations, and azure waters.
Madeira: An enchanting island paradise in the Atlantic, characterized by dramatic landscapes and botanical wonders.
Did you Know?
Lisbon is the oldest city in Western Europe, founded by the Phoenicians around 1200 BC.
Essential Tips for Your Unforgettable Journey in Portugal
As you embark on your adventure to Portugal, here are some invaluable tips to ensure your trip is seamless and unforgettable experience:
Embrace the Local Culture: Immerse yourself in Portugal's vibrant culture by engaging with locals, trying traditional dishes, and participating in local festivities. This will add depth to your journey and create lasting memories.
Learn a Few Phrases: While many Portuguese people speak English in the main cities in other parts of Portugal people don't, so learning a few basic phrases in Portuguese can go a long way in enhancing your interactions and showing respect for the local language.
Pack Layers: Portugal's climate varies, so packing layers is essential. From the cooler north to the sun-soaked south, having versatile clothing options ensures you're prepared for different weather conditions.
Stay Hydrated and Sun-Protected: Especially during the warmer months, staying hydrated and wearing sunscreen are crucial.
Wear comfortable shoes: Lisbon and Porto are hilly cities and to get places you will need to walk uphill a lot so keep that in mind.
Mind the Siesta: Portugal has a siesta period in the early afternoon, during which many shops and businesses may close. Plan your activities accordingly, and enjoy a leisurely lunch during this time.
Use Public Transportation: Portugal's public transportation system, including trains and buses, is efficient and affordable. It's a great way to explore various regions without the hassle of driving and parking. But if you want more independent travel and go off the main track you can rent a car from 5€ daily during low season months. Check our main option here.
Try the Local Cuisine: Indulge in Portugal's mouthwatering cuisine, from seafood delicacies to pastéis de nata. Explore local markets for fresh produce, and don't hesitate to ask for recommendations from locals.
Respect Fado Music: Fado is Portugal's soulful traditional music. Show respect during performances by remaining quiet and attentive. You'll experience the raw emotions of this heartfelt art form. Portuguese people take this very seriously – keep your cellphone down, or you might be asked to leave.
Have Cash On Hand: While credit cards are widely accepted, having some cash in euros is useful for smaller establishments, markets, and rural areas.
Explore Beyond the Cities: While Lisbon and Porto are incredible, venture beyond the cities to experience Portugal's countryside, charming villages, and natural beauty.
Mindful Tipping: Tipping in Portugal is customary, but it's not as high as in some other countries. A 5-10% tip in restaurants and cafes is appreciated.
Be Cautious of Tourist Scams: As with any travel destination, be aware of common tourist scams and exercise caution, especially in crowded areas.
Respect Historical Sites: Portugal boasts rich history and architecture. When visiting historical sites, follow guidelines, and treat these treasures with the respect they deserve.
Stay Safe: Portugal is generally safe, but it's wise to take basic precautions like keeping your belongings secure and being aware of your surroundings.
Be Flexible: Embrace the unexpected. Allow yourself to deviate from your plan, explore hidden gems, and make cherished memories beyond the itinerary.
Consider Travel Insurance: Even though Portugal is a safe country, portuguese drive like crazy so accidents can happen.
Related articles:
Check this 10 Day Itinerary for Portugal with budet and travel tips